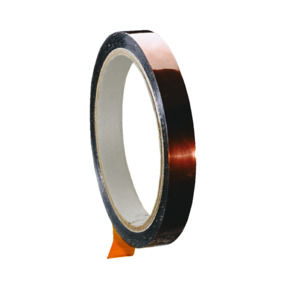 | Qty: | Price: | Savings |
| --- | --- | --- |
| 1 | $3.62 | |
| 10 | $3.55 | Save 2% |
| 30 | $3.44 | Save 5% |
| 100 | $3.33 | Save 8% |
Description

Specifications

Documents
Our products under the brands Techni-Tool, Tec-Cut, Techni-Stat, and many others have merged to one brand, Techni-PRO. All the product specifications and functionality remain the same.
Polyimide backing and silicone adhesive offer outstanding thermal resistance and provides excellent electrical insulating properties.
This tape is used in applications where toughness, puncture resistance, extreme resistance to heat, and flame retardance are required.
Temperature resistant to 500°F
Uses include:
Protection of gold fingers during wave soldering.
Acting as a ground barrier and phase insulation in high-performance coils.
Serving as an outer wrap on small bobbin wound coils.
Application on form wound coils for traction motors.
| Qty: | Price: | Savings |
| --- | --- | --- |
| 1 | $3.62 | |
| 10 | $3.55 | Save 2% |
| 30 | $3.44 | Save 5% |
| 100 | $3.33 | Save 8% |