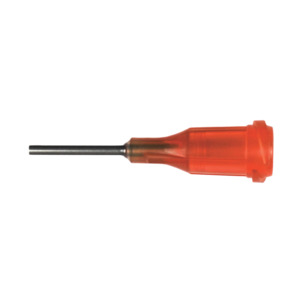 | Qty: | Price: | Savings |
| --- | --- | --- |
| 1 | $30.36 | |
| 5 | $29.75 | Save 2% |
| 10 | $28.84 | Save 5% |
| 20 | $27.93 | Save 8% |
Description

Specifications
Free of flash, burrs, and contaminants

Package labels include lot numbers for process control and traceability

Consistent from style to style and lot to lot

360° SafetyLok™ thread ensures safe, positive attachment to syringe barrel

Engineered hub flats for easy twist on, twist off
Made from burr-free, polished passivated stainless steel, Optimum® are ideal for handling a wide range of assembly fluids.
Optimum general purpose tips deliver precise, consistent deposits every time. Designed with our own unique polypropylene SafetyLok™ hubs that fit securely onto the barrel reservoir, general purpose tips prevent leakage and ensure drip-free dispensing. Each hub is designed with flush mating of the hub to the cutoff for smooth fluid flow and to prevent trapped air, which causes dripping and drooling. Burr-free passivated stainless steel tubing ensures consistent fluid deposits. Each hub is manufactured and quality-tested to be free of molding flash – bits of plastic that can block fluid flow and cause inconsistent deposits.
Tip hubs are color coded by size to help identify the gauge or internal diameter. Tips are also packaged in clear boxes for easy inventory control – with lot numbers, part numbers, and other information clearly labeled for greater process control and traceabilityOptimum dispensing tips are manufactured in the USA in silicone-free facilities to prevent fluid contamination and are certified for industrial use.
EFD produces the highest quality dispensing tips in the industry. All tips are produced in our own silicone-free facilities and subjected to stringent quality control inspections throughout the entire manufacturing process.

Material: 
Stainless Steel
Package Quantity: 
50 Per Pkg.
| Qty: | Price: | Savings |
| --- | --- | --- |
| 1 | $30.36 | |
| 5 | $29.75 | Save 2% |
| 10 | $28.84 | Save 5% |
| 20 | $27.93 | Save 8% |