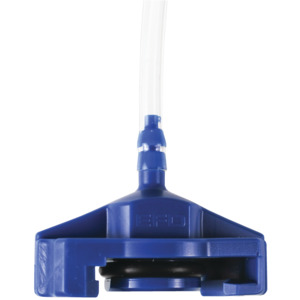 | Qty: | Price: | Savings |
| --- | --- | --- |
| 1 | $58.17 | |
| 5 | $57.01 | Save 2% |
| 10 | $55.26 | Save 5% |
| 20 | $53.52 | Save 8% |
Description

Specifications

Documents
A Nordson EFD adapter assembly connects Nordson EFD Optimum® syringe barrels to the air output of a fluid dispenser unit.

Designed with a positive safety locking action to prevent accidental disengagement, our syringe barrel adapters are easy to install and remove.

Each adapter assembly is precision molded for secure attachment to the syringe barrel with minimal effort, making its connection to the air output of a fluid dispensing unit fast and seamless.

General purpose adapter assemblies are available for 3cc, 5cc, 10cc, 30cc, 55cc, and 70cc syringe barrels.

Quicksilver™ adapter assemblies allow faster cycle speeds for improved dispensing performance and are for use with UltimusPlus Dispensers.
General use lightweight adapters are designed for fast attachment and feature slots that lock securely onto matching tabs on the syringe barrel. Blue molded one-piece, acetal adapter head with NRB O-Ring, flexible polyurethane air hose (5/32" OD x 3/32" ID), male quick-connect and safety clip.

| Qty: | Price: | Savings |
| --- | --- | --- |
| 1 | $58.17 | |
| 5 | $57.01 | Save 2% |
| 10 | $55.26 | Save 5% |
| 20 | $53.52 | Save 8% |