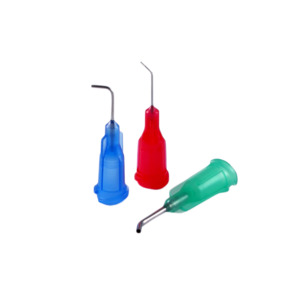 Estimated Mfr lead time:
18 Days
| Qty: | Price: | Savings |
| --- | --- | --- |
| 1 | $54.46 | |
| 5 | $53.37 | Save 2% |
| 10 | $51.74 | Save 5% |
| 20 | $50.10 | Save 8% |
Description

Specifications

Documents
Free of flash, burrs, and contaminants

Package labels include lot numbers for process control and traceability

Consistent from style to style and lot to lot

360° SafetyLok™ thread ensures safe, positive attachment to syringe barrel

Engineered hub flats for easy twist on, twist off

Each tip has a precise bend radius, resulting in better consistency, higher productivity, and decreased waste when dispensing in hard-to-reach areas. The unique SafetyLok hub thread ensures safe, secure attachment to the syringe barrel. Each hub is designed with flush mating of the hub to the cutoff for smooth fluid flow and to prevent trapped air, which causes dripping and drooling. Burr-free passivated stainless steel tubing ensures consistent fluid deposits. All Optimum® dispensing tips are manufactured in the USA in silicone-free facilities to prevent fluid contamination and are certified for industrial use. Tip hubs are color coded by size to help identify the gauge or internal diameter. Tips are also packaged in clear boxes for easy inventory control – with lot numbers, part numbers, and other information clearly labeled for greater process control and traceability.

Material: 
Stainless Steel
Package Quantity: 
50 Per Pkg.
Estimated Mfr lead time:
18 Days
| Qty: | Price: | Savings |
| --- | --- | --- |
| 1 | $54.46 | |
| 5 | $53.37 | Save 2% |
| 10 | $51.74 | Save 5% |
| 20 | $50.10 | Save 8% |