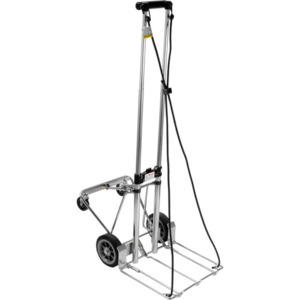 Description

Specifications
Weight capacity: 300 lbs.
Overall dimensions:
Height: 48″; Base: 15.75″ x 12.5″
Storage dimensions:
Height: 20.25″; Width: 16″; Depth: 7″
Weight: 16 lbs.
The Remin Tri-Kart 800 uses a patented, push-button locking system with tubular polycarbonate handle and 6" roller bearing semi-pneumatic wheels. It has chrome plated solid steel wheel guards to protect loads and steel sliding base lock. Constructed of chrome plated steel wire, with curb/stair slides and a weight capacity of 300 lbs (136kg) and is c. Adjustable lock on permanently attached elastic cords prevents load shifting. Patented rear platform with 3" swivel casters folds down into locked position to function as a four wheel dolly. A grip handle may be purchased separately for more control.

Size: 
12.5"L x 15.75"W x 48"H
Work Load Capacity: 
300 lb.
Collapsed Dimensions: 
16″L x 20.25″W x 7″D