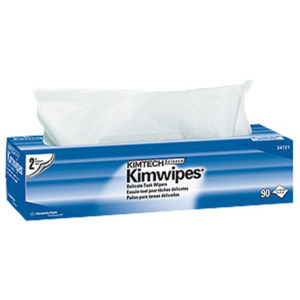 | Qty: | Price: | Savings |
| --- | --- | --- |
| 1 | $16.86 | |
| 10 | $16.52 | Save 2% |
| 50 | $16.02 | Save 5% |
| 100 | $15.17 | Save 10% |
| 200 | $14.84 | Save 12% |
Description

Specifications
Kimtech Science Product Overview - Wipers:
Delicate Task Wipes are a 2-ply wipe that offers a unique combination of low-lint tissue softness and multi-ply absorbency. Perfect for a multitude of delicate tasks. Multi-ply absorbency wipes up liquid and dust. Wipes clean with extra low-lint and low extractable performance. One-at-a-time dispensing.
Series: 
Kimtech Science Series
Wiper Size: 
16.6" x 14.7"
| Qty: | Price: | Savings |
| --- | --- | --- |
| 1 | $16.86 | |
| 10 | $16.52 | Save 2% |
| 50 | $16.02 | Save 5% |
| 100 | $15.17 | Save 10% |
| 200 | $14.84 | Save 12% |