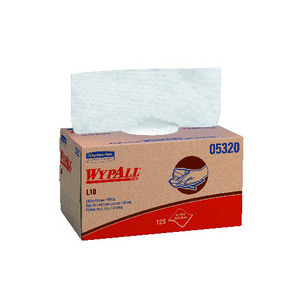 Estimated Mfr lead time:
49 Days
| Qty: | Price: | Savings |
| --- | --- | --- |
| 1 | $10.14 | |
| 20 | $9.94 | Save 2% |
| 50 | $9.63 | Save 5% |
| 100 | $9.13 | Save 10% |
Description

Specifications
WypAll L10 05320 Product Overview
Sold by the box
When you need a light-duty towel to deliver results at an economical price, the WypAll® L10 Limited Use Towels are a great choice. They are soft, strong and absorbent, so they're a favorite replacement for cleaning towels for spray-and-wipe jobs, glass surface cleaning, absorbing small liquid spills, detail and final assembly wiping. You'll find these disposable towels in hospitality housekeeping, retail cleaning and general light-duty cleaning pursuits. They're even gentle enough to use as hand wipes. WypAll® L10 Limited Use Towels are manufactured using a very efficient manufacturing technology that makes them extra absorbent. Since these white towels absorb better than towels and drink up liquids faster, you get better drying performance that can reduce usage overall. The single fold Pop-Up Box format delivers a clean, fresh towel each time and protects your towels against splashes, dust and other contaminants. The one-at-a-time dispensing can help you reduce waste and save money. WypAll® L10 Towels are a terrific, reliable replacement for paper towels and can add efficiency to your business. They meet EPA guidelines for recycled fiber content.
White, single fold towels dispense one at a time in the Pop-Up box, provide a clean, fresh towel every time
Each towel measures 10.25" x 9"
WypAll® L10 Disposable Towels are soft, strong, and have outstanding absorbency; better drying performance than towel towels to help reduce usage
White, single fold towels dispense one at a time in the Pop-Up box, provide a clean, fresh towel every time; the box effectively protects against splashes, dust and other contaminating elements
Use these industrial towels in farm and agricultural environments and as hospitality and retail wiping towels for spill cleaning
Package Quantity: 
125/Box
Estimated Mfr lead time:
49 Days
| Qty: | Price: | Savings |
| --- | --- | --- |
| 1 | $10.14 | |
| 20 | $9.94 | Save 2% |
| 50 | $9.63 | Save 5% |
| 100 | $9.13 | Save 10% |