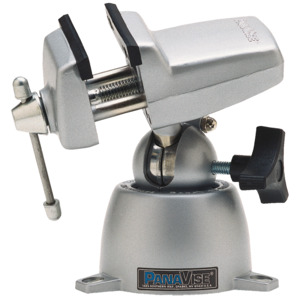 Estimated Mfr lead time:
35 Days
Description

Specifications

Documents
All purpose workholder
Includes vise head and base
The original standard PanaVise is an all-purpose work holding unit, perfect for both industrial and home hobbyist applications. Head is die-cast alluminum alloy with steel and brass inserts. Vise head tilts, turns, and rotates with one knob and moves easily through three planes: 360° rotation, 360° swivel, and 90° pivot. Jaws are 2-1/2" (64mm) wide and open to 2-1/4" (58mm). The base features a 4-5/16" (111mm) bolt circle. Original PanaVise stands 6 3/4" (173mm) tall, weighs 2 lbs, 11 oz. (1.2kg). In 2015 the control knob will go through a slight change, the new knob will have a 4-prong design which provides better torque for gripping than the current 3-prong design.

Estimated Mfr lead time:
35 Days