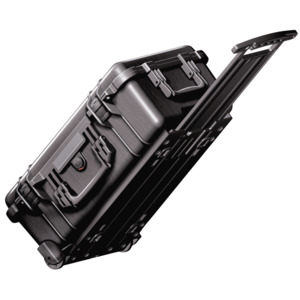 Estimated Mfr lead time:
14 Days
Description

Specifications
Automatic purge valve
Full 1/4" thick walls
Lifetime factory warranty
This is the toughest and biggest airline-legal carry-on case on the market. Features telescoping handle, wheels, easy-open Double-Throw latches, water/dust proof neoprene o-ring seal, two padlock loops and automatic Purge Valve. It's a box that breathes, but can't get wet inside. Filled with layers of pick-n-pluck foam in the bottom and convoluted foam in the lid. Handle extends to 37-1/2". Exterior Dimension: 22 x 14 x 9" deep.

Alternate Product Number: 
1510-000-110
L x W x D [ID]: 
20-3/8" x 11-7/16" x 7-1/2"
Size L x W x H: 
20-3/8" x 11-7/16" x 7-1/2"
Estimated Mfr lead time:
14 Days