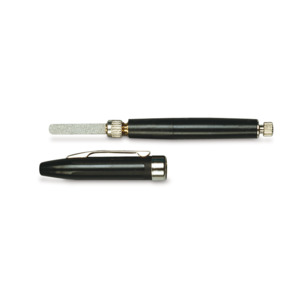 Estimated Mfr lead time:
14 Days
Description

Specifications
A very convenient and handy pocket burnisher. Adjustment of flexible blade-length and rigidity - is possible by varying depth in chuck.
Supplied with replaceable blades stored in pen barrel at the opposite end. Plastic barrel and cap made of sturdy plastic for dielectric work. Length 4 1/2", diameter 3/8". Blades are 3/16" Wide x 1 1/2" long. Rods are .020" diameter x 1 1/4" long."

Includes: 
(1) Pen, (6) Blades
Estimated Mfr lead time:
14 Days