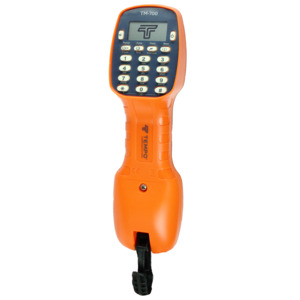 Description

Specifications

Documents
LCD

Intercom for 'dead-pair' talking

Tone & Pulse Operation

Smartintercom between Tele-Mate units allows 'ringing' the far end

Luminescent

10 number speed dial

Headset

Belt Clip

Water Resistant (IP20)

RJ 11 Socket
The TEMPO Communications TM-700 helps technicians install, service, and maintain voice services with ease. DSL compatible in both Monitor and Talk modes, the TM-700's LCD screen makes reading polarity, voltage, current, and ringing frequencies easier than ever, and clearly shows speed dials and recent numbers for faster access. The TM-700 features over-voltage and over-current detection for safer operation and also features an intercom mode, a built-in toner for pair tracing, and DTMF detection and measurement for enhanced productivity. Use the built-in loudspeaker or with a headset (included) for easy hands-free operation.

Brand: 
Tempo Communications
Alternate Product Number: 
52061409
Includes: 
Headset, Belt Clip, ABN Clips
Note: 
Note : The TM-500T is the same as the TM-500 except that the TM-500T has smaller croc clips that do not pierce the wiring.