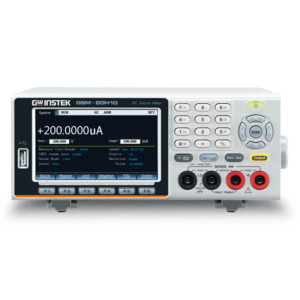 Estimated Mfr lead time:
14 Days
Description

Specifications

Documents
GW Instek GSM-20H10 GPIB is a precision source meter that provides highly stable DC power and instrument-grade 6.5-digit multimeter measurements. While operating, it can be used as a voltage source, current source, voltmeter, ammeter, and ohmmeter, which is uniquely ideal for the evaluation of component characteristics and the test applications of production, including nanomaterials and components, semiconductor architecture, organic materials, high-efficiency illumination, passive components and material characteristics analysis, etc.
Note: This model includes the GPIB Interface
Features:
Maximum Output: ±210V/±1.05A/22W
Built-in 4 Sequence Output Modes, up to 2500 Points
OVP/OTP Protection Function
0.012% Basic Measure Accuracy with 6.5-digit Resolution
Variable Sampling Speed
SDM (Source Delay Measure) Cycle
2, 4, and 6 wire Remote V-source and Measure Sensing
Variable Display Digits
Built-in Limit Function
Built-in 5 Calculation Functions
Standard SCPI Command, Provide Interface: RS-232, USBTMC, and LAN
GPIB Option available with the GSM-20H10-GPIB Model
GSM-20H10 provides four-quadrant operation of ±210V/±1.05A/22W. The first and third quadrants operate as power supplies to supply power to the load. The second and fourth quadrants function as loads to consume power internally. Voltage value, current value and resistance value can be measured while operating the power supply or load function with an accuracy of 0.012% and a resolution of 1µV/10pA/10µΩ.
Included Accessories:
CD User manual
Quick Start manual
Test Lead, GTL-207A
2 Alligator Clips
Alternate Product Number: 
GSM-20H10
Input Voltage: 
110-240VAC
Interface: 
GPIB. LAN, USBTMC, RS-232
Maximum Current: 
+/-1.55A
Number of Quadrants: 
Four
Estimated Mfr lead time:
14 Days