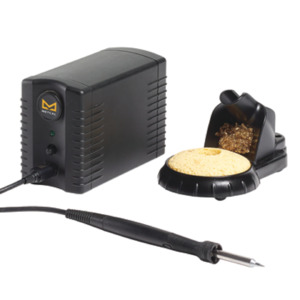 Estimated Mfr lead time:
42 Days
Description

Specifications
Uses SmartHeat® Technology by Metcal
No calibration required
Lead-free soldering with 600 temperature series tips
Long-life, cost-effective tips keep operating costs low
System offers the unique ability to tackle high thermal demand applications including multi-layer boards and lead free processes while operating at moderate soldering temperature levels- no need for excessive temperatures. Comes complete with a power supply housed in rugged cast aluminum, ergonomic soldering iron and special sleeper workstand which limits power to the iron and as a result reduces surface oxidation on the tip. Tip cartridges sold separately.

Includes: 
PS-HC3 Hand-Piece with Coil Assembly, PS-PW900 Power Supply with Power Cord, SxV soldering tip and AC-CP2 Tip Removal Pad, WS2-NS Workstand with Sponge
Input Voltage: 
100-240VAC
Frequency Rating: 
50/60Hz
Estimated Mfr lead time:
42 Days