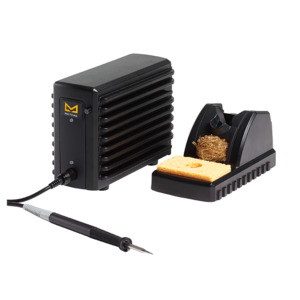 Estimated Mfr lead time:
23 Days
Description

Specifications
High power solution for production soldering, touch-up soldering and SMD rework
Includes the cartridge soldering handpiece, MFR-H1-SC2
System features rapid, repeatable and precise thermal response. Makes easy work of lead-free, multilayer and other thermally demanding applications. Comes complete with power supply, soldering iron (MFR-H1-SC2), & sleeper workstand (WS1) with sponge. Solder tip cartridges sold separately. Uses SFP series tips.

Includes: 
Soldering Cartridge Hand-Piece, Single Output Power Supply, Auto Sleep Workstand
Operating Temperature: 
50 to 104 °F
Frequency Rating: 
50/60 Hz
Idle Temperature Stability: 
?±1.1 °C
Estimated Mfr lead time:
23 Days