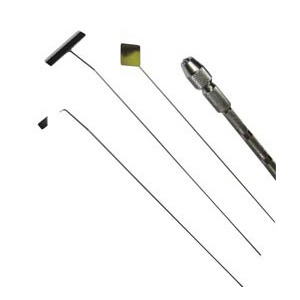 | Qty: | Price: | Savings |
| --- | --- | --- |
| 1 | $375.75 | |
| 2 | $356.96 | Save 5% |
| 5 | $338.18 | Save 10% |
| 10 | $330.66 | Save 12% |
Description

Specifications
SAVE when you buy as a set!
Mini Mirror set includes 3 best selling optical quality mirror blanks and stainless steel pin-vise to make mirrors free-standing and telescopic. All pieces come packed in an ESD-safe, padded case. Set includes:
Standard 90? Mirror, designed for right or left hand use. Two flat sides joined at a right angle, either side can be placed at PCB level to look under a specific part. Requires no tilting of board.
Slim 90? Mirror, similar to standard mirror but with a slimmer profile for harder to reach spaces.
90? BGA Inspection "T" Mirror, ideal for inspection of the inside of a Ball Grid Array without the need of an x-ray. Capable of inspecting outer row of balls along with internal balls and spaces in the middle of the assembly.
| Qty: | Price: | Savings |
| --- | --- | --- |
| 1 | $375.75 | |
| 2 | $356.96 | Save 5% |
| 5 | $338.18 | Save 10% |
| 10 | $330.66 | Save 12% |