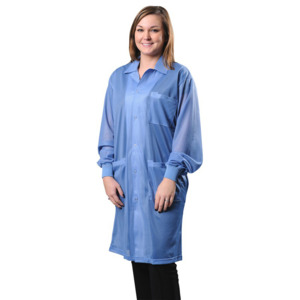 | Qty: | Price: | Savings |
| --- | --- | --- |
| 1 | $58.41 | |
| 10 | $57.24 | Save 2% |
| 20 | $56.07 | Save 4% |
| 50 | $54.91 | Save 6% |
Description

Specifications

Documents
Statshield smocks are designed to be anti static, low tribo charging, and create a faraday cage around the torso and arms of the wearer to protect ESD susceptible items from ESD electrostatic fields generated by clothing on the operator's clothing. Statshield smocks incorporate a hip-to-cuff grounding feature which allows for hands-free grounding with no cord attached to the operator's wrist. This feature allows connection of a ground cord to a 4mm snap stud on the hip. A seam of carbon-suffused threads provides a secure and direct electrical connection from the snap stud on the hip to conductive elastic cuffs. Standard touch testing or continuous monitoring can be used to test the function.

Conductive Knitted Cuffs: 
Yes
Hip To Cuff Grounding: 
Yes
Surface Resistivity: 
34 x 105 < 1 x 107 ohms, per ANSI/ESD STM2.1 and ESD TR53 of Fabrics
Fabric: 
Texturized polyester and a minimum of 9% carbon mono-filament nylon.
Cuff Style: 
Knitted Cuffs
| Qty: | Price: | Savings |
| --- | --- | --- |
| 1 | $58.41 | |
| 10 | $57.24 | Save 2% |
| 20 | $56.07 | Save 4% |
| 50 | $54.91 | Save 6% |