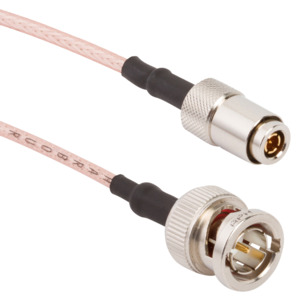 | Qty: | Price: | Savings |
| --- | --- | --- |
| 1 | $37.09 | |
| 100 | $35.24 | Save 5% |
| 200 | $34.12 | Save 8% |
| 500 | $33.38 | Save 10% |
| 1000 | $31.53 | Save 15% |
Description

Specifications

Documents
RF Cable Assemblies
Features and Benefits:
Vary in length from 0.98 inches (25 mm) to 1200 inches (100 ft)
Various configurations in gender, orientation and mounting options
Amphenol RF offers a robust portfolio of coaxial cables assemblies for use in radio frequency applications. These assemblies are available for all industry standard coax cable types engineered with in-series (similar) or between-series (dissimilar) interfaces, or in some cases an unterminated or blunt cut end on one side of the assembly.
Coaxial cable assemblies are an ideal solution for transmitting RF signals from one connection to the next within a system. They are most often used to connect a Printed Circuit Board (PCBs) to other PCBs but can also be used for I/O connections and to connect external antennas to wireless modules.
1.0-2.3 Series Features:
Push-pull coupling system for quick installation and positive locking.
BNC Series Features:
Features a bayonet coupling system for quick connect/disconnect in a full range of PCB and cable mount configurations.
Cable Length: 
84.00" (2134 mm)
Type: 
1.0-2.3 Cable Assemblies
| Qty: | Price: | Savings |
| --- | --- | --- |
| 1 | $37.09 | |
| 100 | $35.24 | Save 5% |
| 200 | $34.12 | Save 8% |
| 500 | $33.38 | Save 10% |
| 1000 | $31.53 | Save 15% |