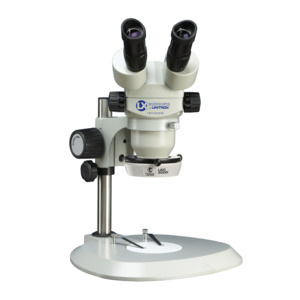 Description

Specifications

Documents
Binocular viewing head
Baked-on powder coat for superb durability
Super widefield 10x/23mm eyepieces with eyeshields
High-quality achromat lenses with anti-reflective coatings
0.7x – 4.5x zoom magnification range controlled by graduated knobs on both sides of the viewing head
Click-stops on the zoom knob at 1.0, 2.0, 3.0 and 4.0 ensure repeatable magnification changes
Magnification range 7x-45x
8″ working distance (when used with optional 0.5x reducing lens); Standard working distance with 1.0x lens shield is 118mm
Heavy duty cast aluminum housing
Pole stand with focus mount, 11.25" wide x 11.5" deep x 11" H (measured to the top of the vertical post)
LED-3000 Ring Light
5 Year Warranty
System 273LS-LED3000
Binocular Stereo-Zoom Microscope with 23mm field of view and dual boom roller-bearing stand offers superior convenience and uncompromising optical quality.
Brand: 
LX Microscopes / UNITRON
Includes: 
17 watt fluorescent ring light rated for 4, 000 hours with color temperature of 5600°K. Base stand is 11.25" wide by 11.25" deep. Vertical post is 11" high.
Series: 
System 273 Series
Special Features: 
3.5X – 22.5X magnification and 195mm working distance when used with an optional 0.5X reducing lens.
Type of Illumination: 
LED 3000 Ring Light