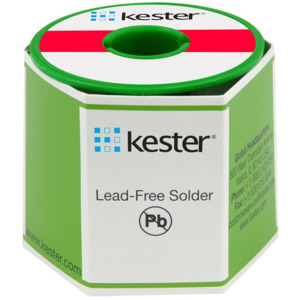 | Qty: | Price: | Savings |
| --- | --- | --- |
| 1 | $104.00 | |
| 5 | $97.76 | Save 6% |
| 10 | $93.60 | Save 10% |
| 25 | $85.28 | Save 18% |
Description

Specifications

Documents
Kester 331 Flux-Cored Wire 'Lead Free' Product Overview:
Alloy: Sn96.5Ag03Cu.5 (SAC305)
Core Size: 66
Flux: 3.3%
Kester 331 Organic Flux is a water-soluble formula for use in flux-cored solder wire. This cored solder version of the popular 2331-ZX Neutral Organic Water Soluble Liquid Flux is more effective than rosin fluxes in soldering difficult metals. The same fast action and mild properties are exhibited with 331 Organic Flux as with the liquid 2331-ZX. The flux is more heat stable than most organic fluxes, resulting in minimal smoke and odor. The residue can be completely removed with a simple heated water rinse. Deionized water is suggested to prevent introduction of chemistries from unknown water sources. 331 is classified as ORH1 per J-STD-004.
Performance Characteristics:
Excellent solderability to a wide variety of metalizations
Easy removal in hot DI water
Compatible with leaded and lead free alloys
Classified as ORH1 per J-STD-004B
Cleaning
The 331 flux residue is conductive and will cause corrosion of metal parts over time. Residue removal should be completed within 48 hours. 331 Organic Flux has the advantage over many competitive water-soluble flux formulations in that the residue is easily and completely removed with plain hot water. Softened tap water or deionized water is recommended for high reliability. Use of hard or high mineral content tap water will increase ionic cleanliness measurements.
Alternate Product Number: 
SAC305
Diameter: 
0.020 in (0.50 mm)
Composition: 
96.5% Tin, 3% Silver, 0.5% Copper
| Qty: | Price: | Savings |
| --- | --- | --- |
| 1 | $104.00 | |
| 5 | $97.76 | Save 6% |
| 10 | $93.60 | Save 10% |
| 25 | $85.28 | Save 18% |