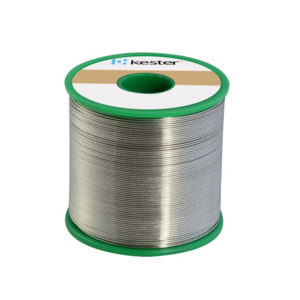 Estimated Mfr lead time:
37 Days
| Qty: | Price: | Savings |
| --- | --- | --- |
| 1 | $87.54 | |
| 5 | $82.29 | Save 6% |
| 10 | $78.79 | Save 10% |
| 25 | $71.78 | Save 18% |
Description

Specifications

Documents
Kester 268 Flux-Cored Wire Product Overview:
Alloy: Sn99.3
Core Size: 66
Flux: 3.3%
Kester 268 Flux-Cored Wire is a zero-halogen wire optimized for robotic soldering applications. With its unique chemistry system, 268 provides consistent workability performance for both robotic and manual soldering in the electronics industry, with performance equivalent to conventional halogen/ halide-based systems. 268 provides a clean release which prevents occurrences of bridges and protrusions, even in narrow-pitch automated drag soldering. The use of 268 results in a clear post-soldering residue without the need for cleaning. 268 is classified as Type ROL0 flux under J-STD-004B specifications. 268 is zero-halogen and halide-free with no intentional addition of bromine and chlorine, conforming to the strictest requirements of IEC 61249-2-21, JPCA-ES-01 and IPC-410B specifications.
Performance Characteristics:
Low occurrence of solder ball spatter
Low smoke and odor
Excellent surface wettability and spreading suitable for robotic soldering and manual soldering
Classified as ROL0 per J-STD-004B
Cleaning
The 268 possesses excellent fluxing ability. The flux residues are non-corrosive, non-conductive and do not require removal in most applications under normal conditions of use. IPA will not clean the residues off the surface of the circuit board after the soldering process. If removal is required, a saponifier or cleaning agent specifically designed to clean a no-clean flux is required to clean the residues.
Alternate Product Number: 
K100LD
Diameter: 
0.031 in (0.80 mm)
Halogen Content: 
Zero Halogen
Estimated Mfr lead time:
37 Days
| Qty: | Price: | Savings |
| --- | --- | --- |
| 1 | $87.54 | |
| 5 | $82.29 | Save 6% |
| 10 | $78.79 | Save 10% |
| 25 | $71.78 | Save 18% |