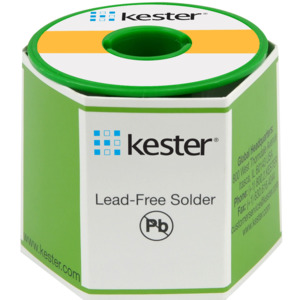 | Qty: | Price: | Savings |
| --- | --- | --- |
| 1 | $50.99 | |
| 5 | $49.46 | Save 3% |
| 10 | $48.44 | Save 5% |
| 25 | $47.42 | Save 7% |
| 100 | $47.01 | Save 8% |
Description

Specifications

Documents
Kester 48 Flux-Cored Wire 'Lead Free' Product Overview:
Alloy: Sn99.3 (K100LD)
Core Size: 66
Flux: 3.3%
Kester 48 Activated Rosin Flux for cored solder wire was developed for lead-free applications to enable soldering of most common metals. 48 has performance characteristics far exceeding standard RA fluxes. 48 builds on the performance of its predecessor Kester 44 with "instant-action" wetting to provide fast and reliable solder joints. 48 is classified as ROM1 per J-STD-004.
Performance Characteristics:
Unparalleled wetting performance
Excellent solderability and fast wetting to a variety of surface finishes
Eliminates the need and expense of cleaning
Classified as ROM1 per J-STD-004
Cleaning
The 48 series possesses excellent fluxing ability. The flux residues are non-corrosive, non-conductive and do not require removal in most applications under normal conditions of use. IPA will not clean the residues off the surface of the circuit board after the soldering process. If removal is required, a saponifier or cleaning agent specifically designed to clean a no-clean flux is required to clean the residues.
Alternate Product Number: 
K100LD
Diameter: 
0.050 in (1.27 mm)
Composition: 
99.3% Tin, 0.7% Copper
| Qty: | Price: | Savings |
| --- | --- | --- |
| 1 | $50.99 | |
| 5 | $49.46 | Save 3% |
| 10 | $48.44 | Save 5% |
| 25 | $47.42 | Save 7% |
| 100 | $47.01 | Save 8% |