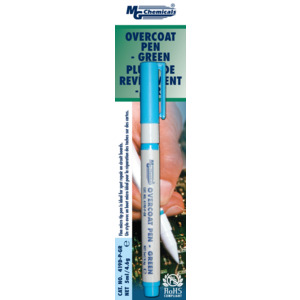 Description

Specifications

Documents
No hazardous air pollutants - free of toluene or xylene
Excellent finish - smooth, homogeneous, and durable
Protects electronics from moisture, corrosion, fungus, and static discharges
Easy to rework and repair
The 419D pen protects area of a printed circuit board from taking solder, helping confine solder to intended areas only. This helps prevent to formation of unintentional solder bridges, which could cause short circuits. It also protects electric circuits against moisture, dirt, dust, thermal shocks, and scratches that could corrode, or otherwise damage the electric components. It insulates against high-voltage arcing, shorts, and static discharges. The 419D pen improves reliability, operational range, and lengthens the life of electrical and electronic components and assemblies.
Improves Reliability, Operational Range, and Life of Electrical and Electronic Components and Assemblies

Container Volume: 
0.17 fl. oz.
Cure Time: 
At room temperature 24 hours, At 65 °C [149 °F] 60 min. If heat curing, do not exceed 65 °C as this may cause surface defects due to solvents evaporating off too quickly.
Application Method: 
1. For best results, ensure that the surface to be coated is clean and oil-free. 2. Shake the pen vigorously to ensure good flow quality. 3. Touch pen lightly on the surface while squeezing the barrel to apply thin and even coat. 4. Let dry for 3-5 minute
Applications: 
Automobile, marine, aerospace, aviation, communication, instrumentation, industrial control equipment and consumer electronics industries.