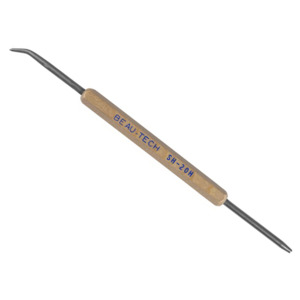 Estimated Mfr lead time:
16 Days
| Qty: | Price: | Savings |
| --- | --- | --- |
| 1 | $6.86 | |
| 20 | $6.72 | Save 2% |
| 50 | $6.52 | Save 5% |
| 100 | $6.17 | Save 10% |
Description

Specifications
Standard Hook
Use the strong and sharp point for punching and cleaning holes.
Use as a scratch awl.
Use to remove PLCCs and ICs from board when desoldering.
Standard Straight Fork Tip
Use to hold wire for soldering.
Use to twist wire for winding and unwinding.
Use to bend and straighten leads.
Use to tune potentiometers and other devices.
8" length
Hardened tool steel ends provide a tough, long lasting working edge that resists wear.
Hard satin chrome finish repels solder when in contact with flux and resists wear.
Solid maple wooden handles provide comfort and a firm grip.
Mini 5 1/2" length also available under item number .
The tool ends are made of high quality Swedish hardened tool steel, carefully heat treated and tempered to provide a tough, long lasting working edge that resists wear. Only top quality maple, finished with a special burn resistant varnish is used for our handles. The natural feel of wood is superior to any plastic. In addition to the comfort it provides to the hand, the wood handle is non-generative of static charges unlike other handle materials such as plastic and nylon. The wood handle serves as an excellent insulator between the two tool ends. The Hex shaped handle provides a firm grip and won ftt roll on the bench. OAL 8".

Estimated Mfr lead time:
16 Days
| Qty: | Price: | Savings |
| --- | --- | --- |
| 1 | $6.86 | |
| 20 | $6.72 | Save 2% |
| 50 | $6.52 | Save 5% |
| 100 | $6.17 | Save 10% |