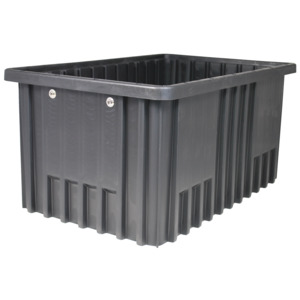 Estimated Mfr lead time:
60 Days
Description

Specifications
These injection molded tote boxes are stackable, may be compartmentalized with dividers, and come complete with snaps for ticket holders. Tote boxes are available in Bentron material (black, less than 10⁵ ohms/sq.). Optional dividers, covers and ticket holders sold separately.

Material: 
Conductive Bentron
Outside Width: 
Top 16.5, Bottom 15.6"
Outside Length: 
Top 16.6, Bottom 15.6"
Bottom Inside Dimensions L x W x H: 
14.8" x 14.8" x 4.5"
Note: 
Price and sold by each.
Estimated Mfr lead time:
60 Days