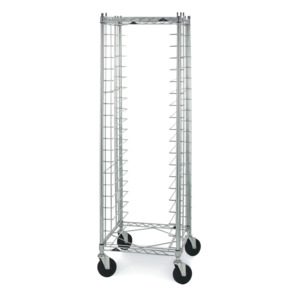 | Qty: | Price: | Savings |
| --- | --- | --- |
| 1 | $627.00 | |
| 3 | $595.65 | Save 5% |
| 5 | $564.30 | Save 10% |
| 10 | $551.76 | Save 12% |
Description

Specifications
Slide spacing 1-1/2"
Tray Capacity 38 (18" x 26")
Economical solution for storage and transport of trays. ESD Classification: Non-conductive (units can be made conductive with use of 1 grounding cable (Part No. 120-568) or conductive casters.

Finish: 
Slides, Frame, Posts: Super Erecta Brite™ finish with Metrolac protective coating.
Size: 
21-3/4" W x 27" L x 69" H
Features: 
Casters: 5" (127mm) stem/swivel casters with resilient tread.
| Qty: | Price: | Savings |
| --- | --- | --- |
| 1 | $627.00 | |
| 3 | $595.65 | Save 5% |
| 5 | $564.30 | Save 10% |
| 10 | $551.76 | Save 12% |