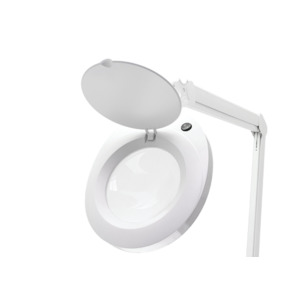 Estimated Mfr lead time:
16 Days
Description

Specifications

Documents
The new ProVue LED 8D workbench lamp reduces eye strain and vision fatigue for high-volume industrial users. With high magnification and bright lighting, this latest magnification lamp in the ProVue line from Aven, Inc. is also well suited for repair operations and scientific research labs. It is equipped with 45 white SMD energy efficient LEDs that provide shadow free illumination and a 5" crystal clear 8 diopter (3x) glass lens to provide 360° distortion free viewing. The white metal housing is mounted to a 45" spring balanced arm that stays set in any position. Lamp operates at 115 V-AC and comes complete with mounting clamp and 5 foot power cord.

LED Magnification lamp with a 5", 8 diopter round glass lens (3x magnification). New modern, SuperSlim design. Use the adjustment knob to set precise lamp positioning. Ultra-bright and energy efficient LED lights.
The innovative ProVue SuperSlim is an efficient and powerful magnification lamp. Featuring 60 energy-efficient LED lights for bright, shadow-free illumination for your work bench and a 5 inch round lens with a power of 8 diopter (3x magnification).
Features
Super-Slim Modern Design
Spring arm stays set in any position
5", 8 diopter round glass lens (3x Magnification) 
High intensity energy saving LEDs
Cool operating temperature
Exceptionally long LED element life (minimum 20,000 hours)
Ideal for assembly, workshop or inspection applications
Mounting Clamp allows for easy attachment to desk and bench tops
Estimated Mfr lead time:
16 Days