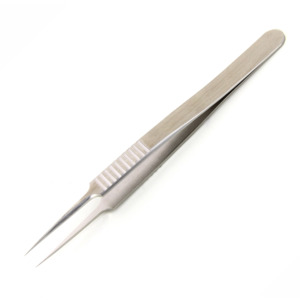 Estimated Mfr lead time:
14 Days
Description

Specifications

Documents
Type 5SG high precision tweezers are suitable to delicate applications which require holding a very small component firmly while granting good visibility.
The Superalloy material provides improved performance in severe environments.
The line serration provides the handles with extra grip, also preventing any possible slips.
The non-magnetic and shape retentive Nickel-Chromium-Molybdenum tweezers (CX) offer excellent strength and resistance to heat (800°C), fatigue, corrosion, chemicals, salts and acids. Six times harder than antimagnetic stainless steel, the CX superalloy tweezers are strong and reliable in difficult conditions.

Alternate Product Number: 
5.SA.0
Material: 
Anti-acid, Anti-Magnetic Superalloy
Handle Material: 
Superalloy
Special Features: 
Anti-acid
Tip Shape: 
Ultra Fine, Sharp
Estimated Mfr lead time:
14 Days