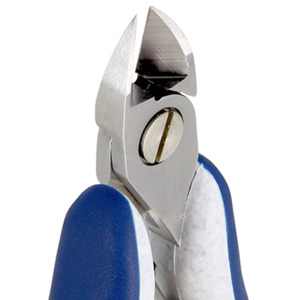 Estimated Mfr lead time:
20 Days
| Qty: | Price: | Savings |
| --- | --- | --- |
| 1 | $82.90 | |
| 5 | $81.24 | Save 2% |
| 10 | $78.76 | Save 5% |
| 50 | $76.27 | Save 8% |
Description

Specifications

Documents
Swiss-made pliers and cutters feature stainless steel dual-leaf springs and matched bearing rings to minimize metal-to-metal contact and friction.
The high-quality ball-bearing steel is precisely heat-treated to provide he highest resiliency and toughness, and all tools in the series come backed with a lifetime warranty on materials and workmanship.
Unique two-component handles combine a hard plastic core with a soft gripping surface for comfortable finger support for hours of use without fatigue.
Static dissipative (106 - 108Ohms/sq.), oil, grease and wear-resistant.
High quality ball-bearing steel
63 Rockwell hardness (HRC)
2 Component soft, static dissipative cushion grips
Perfect symmetry
Swiss made
The 5160L is a high precision cutter belonging to the extra large oval cutter family. This type of geometry provides excellent resistance, while the 5160L head dimensions increase its cutting capacity. The semi-flush cutting edge is suitable to perform robust cuts. The 5160L is equipped with an ESD Ergo-tek slim handle which allows an excellent grip, suitable to environments and to components susceptible to electrostatic discharge. The blades are hardened to 67HRC hardness.

Ideal-tek high-precision cutters combine superior cutting quality and durability with unique design and ergonomics, resulting from careful attention to detail at every stage of the manufacturing process. The increased usability depends on the non-slip rubber handle surface, which provides the operator with a better grip and a more pleasant feeling. The Bi-component ergonomic handles with rounded surface support a more natural thumb position, offering superior comfort during production and repair of electronic devices.

Alternate Product Number: 
5160L
Handle Type: 
Ergonomic Slim
Type: 
High Precision Cutters
Handle Material: 
Bi-component Rubber Plastic
Head Style: 
Extra Large Oval Head
Cutting Wire Range: 
24-09 AWG
Estimated Mfr lead time:
20 Days
| Qty: | Price: | Savings |
| --- | --- | --- |
| 1 | $82.90 | |
| 5 | $81.24 | Save 2% |
| 10 | $78.76 | Save 5% |
| 50 | $76.27 | Save 8% |