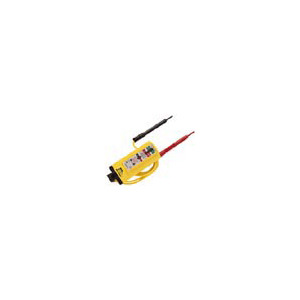 Estimated Mfr lead time:
14 Days
Description

Specifications
The right features, the right size!
Perfect for residential, commercial and industrial environments. Compact frame and replaceable test leads with shielded probe tips withstand the day-to-day demands that voltage testers must endure. CAT III rating and dual independent circuitry.

Vol-Con® Tester Feature:

• Extremely rugged and reliable three-in-one tester
• Vibrates when voltage is present
• Tests for 5V AC/DC to 600 AC/DC
• Automatic switching continuity tester
• Bright long-life LED and neon indicator lamps
• 5-Year Warranty

. Non-Stocking Item. May Require Additional Time To Ship.



Estimated Mfr lead time:
14 Days