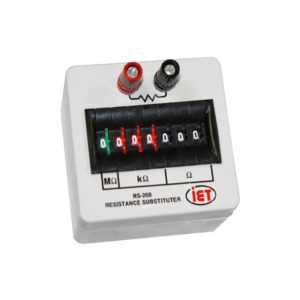 Estimated Mfr lead time:
36 Days
Description

Specifications
Accurate 1%
Wide range from 1 Ω - 10 MΩ
Compact, convenient, and rugged
Panel Mounting, Shielded Case and Fuse Protection options available
Direct reading and Error proof
Color Coded
The RS Series Resistance Substitution Box is the most commonly used decade box on the market today. The RS Series is not only easier to use, but it is also priced lower than most its competition. The easy of use and 0.1% accuracy makes the RS Box ideal for daily verification of test equipment before measurements, troubleshooting in the field or on the factory floor. One nice feature of the RS Series is that it uses convenient side by side, color coded, thumbwheel switches allowing for direct reading — There is no fumbling with multiple slide or rotary switches. Simply dial in the desired values and use! Made of high impact plastic and weighing less then a pound, these substituters are very portable and can reduce clutter on a busy lab bench.

Estimated Mfr lead time:
36 Days