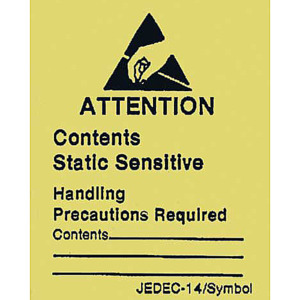 Estimated Mfr lead time:
10 Days
Description

Specifications

Documents
Displays RS-471 ESD Susceptibility Symbol and warning messages: Clearly identify products, packaging and areas requiring static protective measures
Destructible "tamper evident" labels: Labels will tear when removed to indicate package has been opened
Self-adhesive labels suitable for automatic dispensers and reel stock applications: Label rolls include backing and paper core
Permanent acrylic polymer-based adhesive: For one-time use when the label will remain intact and never be removed.
Made in the United States of America
Specifications:
•Product Type: Static Warning Label (Destructible)
•Language: English
•Image Description: RS-471 ESD Susceptibility Symbol (Static Sensitive Symbol)
•Text: ATTENTION CONTENTS STATIC SENSITIVE HANDLING PRECAUTIONS REQUIRED
•Color: Black Print on Yellow Background
•Label Shape: Square
•Label Width: 1.875 in (47.6 mm)
•Label Height: 2.5 in (63.5 mm)
•Standards Met: JEDEC-14/EIA
•Adhesive: Permanent, Self-Adhesive
•Package Quantity: 500 labels per roll
•Core Size: 3 in (76.2 mm)
•Recommended Storage Time: One year. Store at 72F and 50% RH. Labels over one year old should be evaluated by the user to determine acceptability for the user's application.


Estimated Mfr lead time:
10 Days