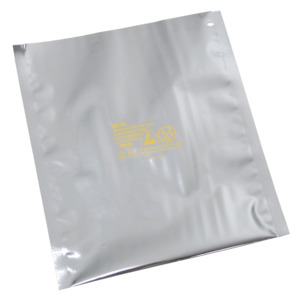 | Qty: | Price: | Savings |
| --- | --- | --- |
| 1 | $116.70 | |
| 5 | $110.87 | Save 5% |
| 10 | $105.03 | Save 10% |
| 25 | $99.20 | Save 15% |
Description

Specifications

Documents
≤ 0.03 Grams Moisture Vapor Transmission Rate (MVTR)
<10 nJ Energy penetration tested per ANSI/ESD STM11.31
>20lb Puncture Strength Average
Dissipative surfaces per ANSI/ESD STM11.11 and Static Control Bag ANSI/ESD S11.4 Level 3
Allows bag to be grounded when placed on a grounded surface or handled by a grounded operator
Printed with ESD Protective Symbol and lot code info for traceability
Made in the USA in Sanford, NC
Designed for moisture and electrostatic discharge (ESD) sensitive items (such as SMT). Meets ANSI/ESD S20.20, ANSI/ESD S541, EIA 541, JESD625-A, and EIA 583.

Material: 
Metallized Polyester/Polyethylene
Series: 
Dri-Shield 2000 Series
Tensile Strength: 
7800 psi
Surface Resistivity: 
<1x10¹¹ ohms
Specifications: 
Moisture Vapor Transmission Rate (MVTR) Typical Values 0.035 grams/100 sq. in./24 hrs. Per Testing Method MIL-STD-3010C Method 3030
Storage: 
Store at 76°F (24°C) and protect from ultraviolet sunlight, moisture, or heat because the aluminum shielding layer could oxidize.
| Qty: | Price: | Savings |
| --- | --- | --- |
| 1 | $116.70 | |
| 5 | $110.87 | Save 5% |
| 10 | $105.03 | Save 10% |
| 25 | $99.20 | Save 15% |