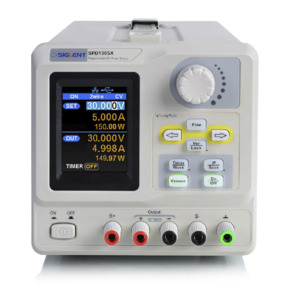 Estimated Mfr lead time:
22 Days
Description

Specifications

Documents
SPD1305X Programmable DC Power Supply
Features:
30V / 5A Channel output up to 150 W
1mV / 1mA Resolution
Setting accuracy: Voltage: ±(0.03% of reading+10 mV) Current: ±(0. 3% of reading+10 mA)
Readback accuracy: Voltage: ±(0.03% of reading+10 mV) Current: ±(0. 3% of reading+10 mA)
Stable, reliable, Low ripple and noise: ≤ 350 uVrms/3mVpp; < 2 mArms
Fast transient response time: < 50 microseconds
Supports front panel timing output functions
100/120/220/230 V compatible & meets the needs of different power grids
Internal 5 groups of system parameter save/recall
Intelligent temperature-controlled fan reduces noise
2.8 in true color TFT-LCD display (240×320)
USB Device, LAN interface
Includes PC software: Easypower, supports SCPI, LabView driver
Locking Key
3-year warranty, excluding accessories
Standard Accessories:

USB Cable -1
Quick Start guide -1
Power cord -1
Output Test Cord -2 Sets
Certificate of Calibration -1
SPD1000X Series Programmable Linear DC Power Supply features remote computer control capability, and real time wave display, to deliver high performance and ease of use in a small package. And, it also offers stable performance making it an ideal choice for bench power supplies. Additionally, there are output short and overload protect functions to assist in production and development applications.
Estimated Mfr lead time:
22 Days