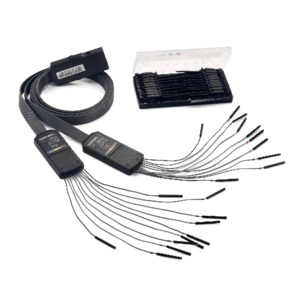 Estimated Mfr lead time:
22 Days
Description

Specifications

Documents
SPL2016 Logic Probe Kit, 16 Channel
Features:
Qty 1: Cable Assembly
Qty 2: Digital breakout connectors
Qty 20: Clip leads
For use with voltage and current probes and the Power Analysis option available on the 4 channel units of the SDS2000X, SDS2000X Plus, SDS5000X and SDS6000A series oscilloscopes. Also compatible with the SDS6000L Series.
Note: Both the SPL2016 Logic Probe and license activation key are needed to use MSO option (SDS-2000X-LA / SDS2000XP-16LA / SDS-5000X-LA / SDS6000Pro-16LA or SDS6000L-16LA).
Estimated Mfr lead time:
22 Days