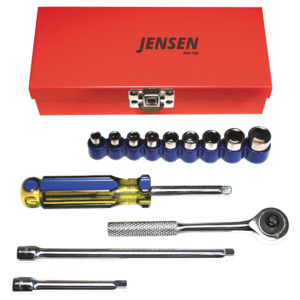 Estimated Mfr lead time:
120 Days
Description

Specifications

Documents
Our Jensen hand tool products have merged to the brand, Techni-PRO. All the product specifications and functionality remain the same.
Chrome-plated steel sets feature a 5-1/2" long quick-release ratchet, a 6" long spinner handle, and 3" and 6" long extensions. Metric set includes 6-point sockets in the following sizes: 4mm, 5mm, 6mm, 7mm, 8mm, 9mm, 10mm, 11mm, and 12mm. Includes vinyl boot and steel case.

Includes: 
1/4" Drive, 5-1/2" Long Std-Release Ratchet, 6" Long Spinner Handle, and 3" and 6" Long Extensions, Metric Set Includes 6-Point Sockets: 4 mm, 5 mm, 6 mm, 7 mm, 8 mm, 9 mm, 10 mm, 11 mm, and 12 mm; Vinyl Boot and Steel Case
Storage Unit Type: 
Vinyl Boot and Steel Case
Estimated Mfr lead time:
120 Days