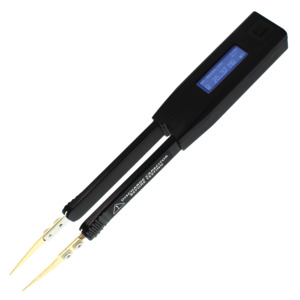 Description

Specifications

Documents
In manual modes the Intellitweez measures a specific circuit parameter - L, C, R, Z or ESR
R Resistance 0.05 Ω to 9.9MΩ
C Capacitance 0.5 pF to 4999 µF
L Inductance 0.5 uH to 999 mH
Variable test signal output from 0.25 - 1.0Vrms
The TM-500 five star IntelliTweeze™ is a quick and easy way of testing and troubleshooting many types of components. It features built-in high precision LCR probe, .2-.5% base measurement accuracy, Automated component identification, automated test range selection, manual C,R,L,Z and ESR modes, adjustable test signal levels, diode polarity/short testing, secondard D,Q and ESR parameters, high visibility OLED display, and built-in Li-Ion battery.

Frequency: 
1 KHz, 10KHz, 120Hz, 100Hz
Included With Item: 
Package includes TM-500 IntelliTweeze Rechargeable Tweezer Meter, AC charger with USB and fitted plastic case. Dated Certificate of Calibration included with user instructions.
Operating Temperature Range: 
0-C - +55C
Note: 
Replacement Tips for TweezerMeter™ use part no. 481-822