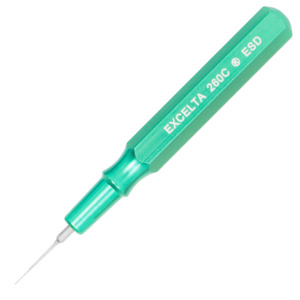 | Qty: | Price: | Savings |
| --- | --- | --- |
| 1 | $7.03 | |
| 20 | $6.89 | Save 2% |
| 50 | $6.68 | Save 5% |
| 100 | $6.33 | Save 10% |
Description

Specifications

Documents
Mini-spatula (oiler) with teal colored aluminum handle.
Ideal for placing epoxies or lubricant in very small amounts into tight places.
This handy tool can be used to apply lubricants and fluids to small moving parts. They can also be used as miniature spatulas for applying adhesives during electronics assembly. ESD-safe aluminum handle. 2-1/2" long.

Material: 
AISI 440 / Carbon Plated Steel
Type: 
Miniture Oiler/Spatula
Handle Material: 
Aluminum
Surface Resistivity: 
Conductive
| Qty: | Price: | Savings |
| --- | --- | --- |
| 1 | $7.03 | |
| 20 | $6.89 | Save 2% |
| 50 | $6.68 | Save 5% |
| 100 | $6.33 | Save 10% |