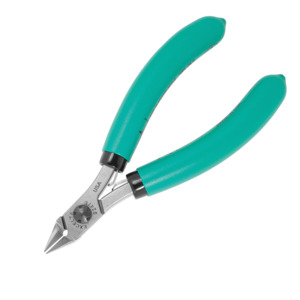 | Qty: | Price: | Savings |
| --- | --- | --- |
| 1 | $66.74 | |
| 5 | $65.41 | Save 2% |
| 10 | $64.74 | Save 3% |
| 20 | $63.40 | Save 5% |
| 50 | $60.07 | Save 10% |
| 100 | $57.40 | Save 14% |
Description

Specifications

Documents
The Excelta 9247E Lazer Line® medium tapered/relieved optimum flush cutter has a cutting capacity of .005" - .032" soft wire. It is made of carbon tool steel with induction hardened cutting blades to RHC 63-65. The CNC machining allows the joint surfaces to be perfect to allow for long life. The dual leaf springs provide smooth action. The Anti-Static grips are soft cushioned foam and have a surface resistivity of 10¹⁰ ohms/sq.

Excelta Offers 5 Levels of Precision
5-Star - Ultra Precision ♦ Side Cutters ♦ Specialty Cutters ♦ Shear Cutters
Excelta's Lazer Line® family of cutters are made in the USA at our Buellton, CA headquarters to exacting specifications. Cutting-edge manufacturing methods and innovative blade grinding techniques come together in top-of-the-line cutting tools.
4-Star - Very High Precision ♦ 9200 Slim Line Cutters ♦ 7200 Large Cutters
Excelta's Slim Line series utilize the high-tech manufacturing processes of our Lazer Line® family of cutters in an updated, compact tool that combines excellent, four-star precision with a reduced price. Our large side cutters, designed to cut 14 to 12 AWG wire, also meet our four-star precision requirements.
3-Star - High Precision ♦ Cable & Tube Cutters ♦ Depanelizers
Excelta's Cable & Tubing Cutters and depanelizing tools meet a three-star precision level, ensuring smooth and clean shear cuts whether you're cutting tabs on circuit boards or slicing through plastic tubing.
2-Star - Fine Precision ♦ Compound Action Cutters ♦ Steel Body Cutters
Balancing accuracy, strength, and cost, Excelta's hard wire cutters all meet a two-star fine precision level with stainless steel construction and carbide cutting inserts.
1-Star - General Precision
Our versatile SE-25 shear cutters are an affordable, effective tool for cutting 20AWG or smaller wire. These extremely versatile cutters are small, sharp, and surprisingly strong.
Choose Head Shape Based On:
Oval Head Cutter: The most common head shape for cutting tools. It allows for the maximum amount of "metal" behind the cutting edge delivering on extremely long tool life.
Tapered Head Cutter: cutters have a cutting edge with a 0.005" bevel, which produces a smaller 'pinch' on the lead/wire than a simi-flush cutter. The smaller bevel means fewer cuts than a simi-flush cutter.
Tapered/Relieved Head Cutter: This cutter allows for the most access to "hard to reach" areas. In addition to having a diagonal profile, the face has been relieved allowing even greater access.
Choose Cut Type Based On:
Semi-Flush cutters have a cutting edge with a 0.010" bevel, which produces more cuts than a maximum flush cutter but leaves a 'pinch' on the lead/wire.
Optimum-Flush Developed to allow the cutting tool to get into those "hard to reach" areas. It was designed more along diagonal lines with less "metal" behind the cutting edge.
Lazer-Flush cutters have no bevel production a pure, clean cut with no 'pinch' on the lead/wire. the cutting edges are extremely sharp. Cutting life is once again reduced over Semi-Flush or Optimum-Flush Cutters.
Handle Type: 
Standard Cushioned Grip
Maximum Cutting Capacity: 
20 AWG
Surface Resistivity: 
10¹⁰ ohms/sq
Cutting Wire Range: 
36-20 AWG
| Qty: | Price: | Savings |
| --- | --- | --- |
| 1 | $66.74 | |
| 5 | $65.41 | Save 2% |
| 10 | $64.74 | Save 3% |
| 20 | $63.40 | Save 5% |
| 50 | $60.07 | Save 10% |
| 100 | $57.40 | Save 14% |