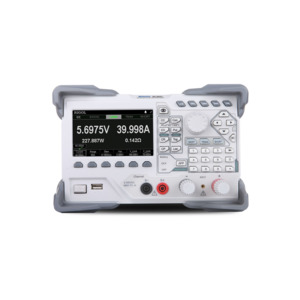 Description

Specifications

Documents
DL3000 Series Programmable DC Electronic Load
Product Features:
DL3021/DL3021A: single channel, DC150 V/40 A, total power up to 200 W
DL3031/DL3031A: single channel, DC150 V/60 A, total power up to 350 W
Dynamic mode: up to 30 kHz
Adjustable current rising speed: 0.001 A/us to 5 A/us
Min. readback resolution: 0.1 mV,0.1 mA
4.3-inch TFT LCD, capable of displaying multiple parameters and states simultaneously
Overvoltage/overcurrent/overpower/overtemperature/reverse voltage protection
4 static modes: CC, CV, CR, CP
3 dynamic modes: continuous, pulsed, toggled
List function supports editing as many as 512 steps
Battery test function, OCP test, OPP test, factory test function, etc.
Short-circuit test function
Power-off memory function
Built-in RS232/USB/LAN communication interface
USB-GPIB module (optional)
The DL3000 series is a cost-effective, economical programmable DC electronic load with a friendly human-machine interface and excellent performance specifications. It provides a variety of remote communication interfaces to meet diverse testing needs for design and testing. A wide range of solutions are available for a wide range of industries including automotive electronics, aerospace and fuel cells.