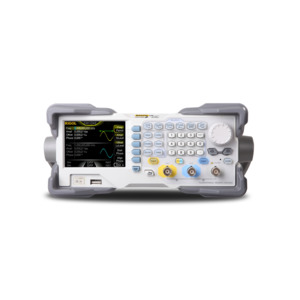 Description

Specifications

Documents
DG1000Z Series Arbitrary Waveform Generators with SiFi Technology
Product Features:
SiFi (Signal Fidelity) for 100% waveform replication
2Mpts or 8Mpts/CH(std.), 16Mpts/CH (opt.) arbitrary waveform length
Standard 2 full functional independent channels
1ppm frequency stability, -125dBc/Hz phase noise, 200ps low jitter
Built-in 8 orders harmonics generator
Built-in 7 digits/s counter up to 200MHz
160 built-in pre-edited waveforms
Intuitive arbitrary waveform editing software
Full modulation supported: AM, FM, PM, ASK, FSK, PSK and PWM
The DG1000Z Series Waveform Generators adds to RIGOL's extensive portfolio of feature rich test and measurement equipment. Powered by Rigol's innovative SiFi technology, the DG1000Z is ideal for low frequency testing applications requiring high signal fidelity, low noise floor and long arbitrary waveform length. The 2 channel DG1000Z series features Best-In-Class memory depth of 2 MPts on the DG1022Z or 8 Mpts on the 30 and 60 MHz models, all with an available option for 16 Mpts. optional to facilitate deeper, more intricate arbitrary waveforms and includes up to 160 built-in waveforms for quick and easy access to more predefined signals. These generators provide +/-1ppm frequency stability and -125dBc/Hz phase noise for high signal fidelity and low noise, predictable signal generation. The DG1000Z series delivers up to 200 MSa/s sample rate and 14 bits vertical resolution allowing users to achieve fine resolution and signal detail while emulating small voltage changes on a large output range. Available in models up to 60 MHz [The DG1062Z (60MHz)], these generators offer a wide range of modulations including AM, FM, PM, ASK, FSK, PSK and PWM.