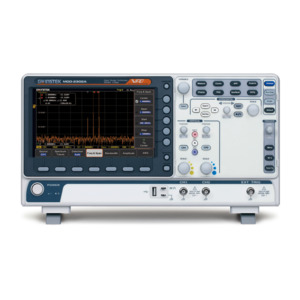 Estimated Mfr lead time:
14 Days
Description

Specifications

Documents
300/200/100MHz bandwidth selections ;2 channels
Real time sample rate is 2GSa/s max.
Per Channel 20M memory depth and VPO waveform display technology
Waveform update rate up to 120,000 wfms/s
8 " WVGA TFT LCD display
Maximum 1M FFT provides higher frequency domain resolution measurements
High ,low and band pass filter functions
29,000 segmented memories and waveform search functions
I2C/UART/CAN/LIN serial bus trigger and decoding function
Data log function is able to track signal changes up to 1000 hours
Network storage function
MDO-2000A is an advanced version of MDO-2000E. The selectable bandwidth range is upgraded to 300MHz.
The full bandwidth ranges include 300MHz, 200MHz and 100MHz.
The sampling rate has upgraded to Max. 2GSa/s and the memory depth has also been upgraded to 20M/CH. Hence, the three major specifications of oscilloscopes have been improved.
The new models of the series feature 2 channels including MDO-2000A and MDO-2000AG.
The entire series offers the functions of oscilloscope and spectrum analyzer. On top of that, MDO-2000AG features a dual-channel 25MHz arbitrary waveform generator.
The new generation MDO-2000A series provides better sampling rate and memory depth for users to obtain more realistic signal integrity, and higher bandwidth selections meet the measurement requirements of higher frequencies.
Estimated Mfr lead time:
14 Days