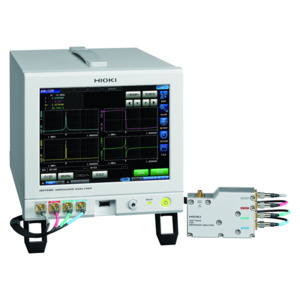 Estimated Mfr lead time:
14 Days
Description

Specifications

Documents
The IM7585 Impedance Analyzer offers a top measurement time of 0.5ms over a 1MHz to 1.3GHz frequency range and superior stability, making it ideal for R&D as well as high volume production of ferrite chip beads and chip inductors.
Key Features
Measurement frequency 1 MHz to 1.3 GHz (100 kHz setting resolution)
Measurement range

L: 0.0123nH to 0.795mH
C: 0.0245pF to 1.59uF

Fastest test speed of 0.5 msec
0.07% measured value variability (when measuring at 1GHz)
+-0.65% rdg. basic accuracy
Measurement parameters Z, Y, Phase Angle, Rs (ESR), Rp, X, G, B, Cs, Cp, Ls, Lp, D, Q
Measurable range 100 megohms to 5 kilohms
Measurement modes - LCR mode & Analyzer mode
Half-rack size body and palm-sized test head
Comprehensive contact check (via DCR testing, Hi-Z reject or waveform judgment)
Make frequency sweeps, level sweeps and time interval measurements in Analyzer Mode
Basic Specifications (Accuracy Guaranteed For 1 Year, Post-Adjustment Accuracy Guaranteed For 1 Year)
Interfaces EXT I/O (Handler), USB communication, USB memory, LAN, RS-232C (optional), GP-IB (optional)
Display 8.4-inch color TFT with touch screen
Power supply 100 to 240 V AC, 50/60 Hz, 70 VA max.
Accessories
Test head
Connection cable

IM7585-01 Connection cable 1 m is bundled
IM7585-02 Connection cable 2 m is bundled

Instruction manual
LCR application disc (Communications user manual)
Power cord
Estimated Mfr lead time:
14 Days