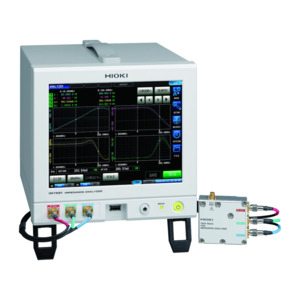 Estimated Mfr lead time:
14 Days
Description

Specifications

Documents
The IM7581 offers a top measurement time of 0.5ms over a 100kHz to 300MHz frequency range, making it ideal for high volume production of ferrite chip beads and chip inductors.
Key Features
Measurement frequency 100 kHz to 300 MHz (5 digits resolution)
Measurement range

L: 0.0531nH to 0.795mH
C: 0.1061pF to 15.9uF

Fastest test speed of 0.5 msec
+-0.72% rdg. basic accuracy
Measurement parameters Z, Y, Phase Angle, Rs (ESR), Rp, X, G, B, Cs, Cp, Ls, Lp, D, Q
Measurable range 100 megohms to 5 kilohms
Measurement modes - LCR mode & Analyzer mode
Half-rack size body and palm-sized test head
Comprehensive contact check (via DCR testing, Hi-Z reject or waveform judgment)
Make frequency sweeps, level sweeps and time interval measurements in Analyzer Mode
Basic Specifications (Accuracy Guaranteed For 1 Year, Post-Adjustment Accuracy Guaranteed For 1 Year)
Interfaces EXT I/O (Handler), USB communication, USB memory, LAN, RS-232C (optional), GP-IB (optional)
Display 8.4-inch color TFT with touch screen
Power supply 100 to 240 V AC, 50/60 Hz, 70 VA max.
Accessories
Test head
Connection cable

IM7581-01 Connection cable 1 m is bundled
IM7581-02 Connection cable 2 m is bundled

Instruction manual
LCR application disc (Communications user manual)
Power cord
Estimated Mfr lead time:
14 Days