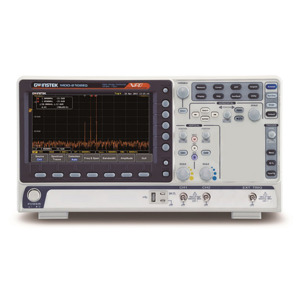 Estimated Mfr lead time:
14 Days
Description

Specifications

Documents
70MHz, 2-ch, DSO, Spectrum analyzer, dual channel 25MHz AWG
Real time sample rate for each channel is 1GSa/s (2 channel models)
Maximum real time sample rate is 1GSa/s (4 channel models)
Per Channel 10M memory depth and VPO waveform display technology
Waveform update rate up to 120,000 wfms/s
8 " WVGA TFT LCD display
Free Frequency Response Analyzer Software
Maximum 1M FFT provides higher frequency domain resolution measurements
High ,low and band pass filter functions
29,000 segmented memories and waveform search functions
I2C/SPI/UART/CAN/LIN serial bus trigger and decoding function
Data log function is able to track signal changes up to 1000 hours
Network storage function
Mask test function
MDO-2000EG equips with a spectrum analyzer and a dual channel 25MHz AWG MDO-2000EX equips with a spectrum analyzer ; a dual channel 25MHz AWG; DMM and power supply.
MDO-2000E series is multi-functional mixed domain oscilloscope. The series includes two feature combinations : MDO-2000EG and MDO-2000EX. MDO-2000EG models have a built-in spectrum analyzer and a dual channel 25MHz arbitrary waveform generator and MDO-2000EX models feature a built-in a spectrum analyzer, arbitrary waveform generator, a 5,000 count DMM, and a 5V/1A power supply.
The first of its kind, MDO-2000EX is the only oscilloscope to equip with a DMM and a power supply in the T&M industry.
Estimated Mfr lead time:
14 Days