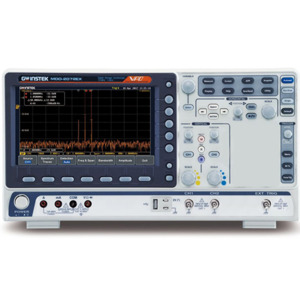 Estimated Mfr lead time:
14 Days
Description

Specifications

Documents
The GW Instek MDO-2072EX is a multi-functional mixed domain oscilloscope with a built-in spectrum analyzer and a dual channel 25 MHz arbitrary waveform generator.
The MDO2072EX is equipped with an 8-inch display and features a bandwidth of 70 MHz. The oscilloscope provides two analog channels with 1GSa/s real-time sampling rate per channel. The waveform update rate of 120,000 wfm/s and the minimum 1mV/div vertical range allow the MDO-2072EX to measure complex feeble signals and clearly display measurement results. With respect to the memory depth, the oscilloscope provides 10M long memory for users to completely retrieve and analyze waveforms.
Users, based upon the application requirements, can select 1k, 10k, 100k, 1M or 10M memory depth. The segmented memory can be divided the maximum into 29,000 sections for users to bypass any unimportant waveforms so as to swiftly search all required waveforms. With the function, more meaningful waveforms can be saved and target waveforms can be displayed rapidly. With the waveform search function, users can rapidly search desired waveforms according to the required trigger conditions. The MDO2072EX also provides 1M FFT display that allows users to correctly and efficiently acquire measurement results of the frequency domain. MDO-2000E series, enhancing by the high waveform update rate of 120,000wfm/sec, Window Zoom and Peak Search, becomes the optimal choice of the economical and multi-function mixed domain oscilloscope.
FRA Frequency Response Analyzer Software
MDO-2072EX also provides the frequency response analysis function (Bode plot). The FRA software can be directly downloaded from GW Instek website. Via arbitrary waveform generator, oscilloscope, and FRA software, users can obtain DUT's FRA characteristic curve plot. FRA has a very wide application range, including product circuit and component performance verification and analysis such as Feedback of Circuit Design, Filter Design, Amplifier Design, Resonant Circuit Design, Cable Frequency Response, and Signal Transformer Performance. Via FRA, users can preliminarily verify product and analyze component's characteristics without the expensive instrument.
The frequency range of FRA is from 20Hz to 25MHz; the number of test point can be selected from 10 to 90 points per decade. After completing the Bode plot, users can select measurement curve by Cursor so as to retrieve each point's amplitude and phase on the curve.
70 MHz bandwidth, 2 channels
Comes standard with a spectrum analyzer, a dual channel 25 MHz AWG, DMM and power supply
Real time sample rate for each channel is 1GSa/s
Free Frequency Response Analyzer Software (Download from manufacture website only)
Per Channel 10M memory depth and VPO waveform display technology
Waveform update rate up to 120,000 wfms/s
8 inch WVGA TFT LCD display
Maximum 1M FFT provides higher frequency domain resolution measurements
High, low and band pass filter functions
29,000 segmented memories and waveform search functions
I2C/SPI/UART/CAN/LIN serial bus trigger and decoding function
Data log function is able to track signal changes up to 1000 hours
Network storage function
Mask test function
Estimated Mfr lead time:
14 Days