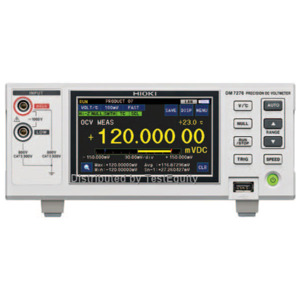 Estimated Mfr lead time:
142 Days
Description

Specifications

Documents
Outstanding Long-term Stability and Temperature Characteristics for testing Lithium-ion Batteries
DMM7275: 7-1/2 Digit, 20 ppm accuracy
DMM7276: 7-1/2 Digit, 9 ppm accuracy
DC voltage: 100 mV ( ±120.000 00 mV) to 1000 V ( ±1000.000 0 V ), 5 ranges
Capacitance contact check (using built-in C-monitor)
Supports global production with built-in variable power supply
Built-in EXT I/O, LAN, and USB
One-year warranty
High-accuracy measurement with a one-year accuracy guarantee
The Hioki DM7275 and DM7276 meet the demand for high-accuracy measuring instruments for use in evaluating and verifying the performance and quality of lithium-ion batteries. The DM7275 and DM7276 deliver high measurement accuracy of 20 ppm (0.002%) and 9 ppm (0.0009%), respectively. Furthermore, contact check, binning, and other functions make these instruments ideally-suited for use in developing and evaluating lithium-ion batteries.
External potential measurement for lithium-ion batteries
External potential measurement is effective for detecting poor insulation in the external film of lithium-ion batteries. For measuring devices such as a lithium-ion battery with a molded exterior, not only accuracy but probe contact reliability is vital. The DM Series uses a faint 10 mVrms signal which doesn't stress the measurement target to measure the capacitance between measurement probes and check contact. A capacitance monitor is built-in for setting the threshold, so you can perform settings while checking the measured value.
Contact check function
A break in a measurement cable or poor contact with the measurement target can lead to the shipment of defective products. To prevent such errors, the DM7275 and DM7276 provide contact check functionality to inform you of a cable break or poor contact.
Temperature measurement function
Both the DM7275 and DM7276 can measure the ambient temperature at the same time as DC voltage. A built-in temperature compensation function for properly adjusting voltage values based on the measured temperature enables testing to take full advantage of the DC voltmeter's accuracy, even when measuring targets that exhibit a high degree of temperature dependence.
The DM7275 and DM7276 voltmeters are ideal for developing and manufacturing Li-ion batteries, electrical double-layer capacitors, electric vehicle components, and other next generation devices.
Included with DM7275 and DM7276: instruction manual, power cord and application CD.
Estimated Mfr lead time:
142 Days