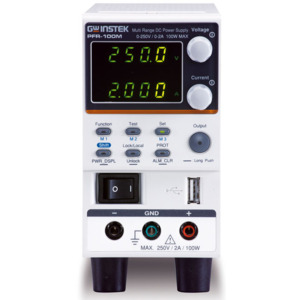 Estimated Mfr lead time:
28 Days
Description

Specifications

Documents
0 to 250 V, 0 to 2 A, 100 W
Five-fold rated power multi-range operation
Natural convection cooling design (fanless structure)
Three-point memory storage function
Output ON/OFF Delay Function
CV, CC Priority Mode
Adjustable Slew Rate For Voltage and Current
Bleeder Circuit Control
Protection: OVP, OCP, AC FAIL and OTP
Support Front Panel and Rear Panel Output
Standard USB and RS-232/485, LAN and GPIB included w/ PFR-100MGL)
Built-in Web Server Monitoring and Remote Control of up to 31 units
External Analog Control and Monitor Function
Remote Sensing Function
Two-year warranty
Note: The power rating determines the maximum available current for a given voltage output. For example, the PFR-100M is rated at 250 V, 2 A, or 100 W, but you cannot get 250 V and 2 A simultaneously. The maximum current at 250 V is 0.4 A (250 V x 0.4 A = 100 W).
Output power cannot exceed V * A.
PFR-100 Series Fanless Multi-Range D.C. Power Supplies
The 100 watt PFR-100M is a small high performance programmable D.C. power supply that adopts natural convection design to dissipate heat. The fanless structure allows you to focus on experiments and tests in a quiet environment. And, the fanless power supply will not suck in dust and foreign objects — contributing to a longer life cycle.
The PFR-100M is a power supply with a five-fold rated power that allows you to define voltage and current under rated power conditions — providing you with wider voltage and current operational ranges. PFR-100M is rated at 100 W. The PFR-100M has a maximum output voltage of 250V (at 0.4A) or maximum output current of 2A (at 50V).
The PFR-100M provides front and rear panel output terminals. The front panel output terminal helps users shorten test lead replacement time while conducting adjustment on front panel's function keys. The rear panel output terminal facilitates an easy wiring operation for rack mount assembly. Its 70mm width and 2.5KG in weight have greatly elevated PFR-100 series portability. Furthermore, the multi-drop mode allows you to control up to 31 PFR-100 series power supplies without using switch/Hub — helping save equipment cost.
PFR-100 Series Interface


The LAN interface for PFR-100M is an Ethernet port. It also has a built-in web server and intuitive user interface, allowing monitoring tests via a web browser, tablet or smart phone. In addition, you can remotely adjust PFR-100M settings, including output voltage/current, the slew rate for voltage/current, Bleeder circuit control, OCP, delayed time for output voltage and Buzzer settings. The PFR-100M has USB and RS-232/485 built-in. The PFR-100MGL also includes LAN and GPIB.
The PFR-100M provides special functionalities to meet test requirements for different load characteristics. The CC priority mode can be applied for DUTs with diode characteristics to prevent DUT from being damaged by inrush current. A slow rise time for voltage can also protect DUT from inrush current, especially for tests on capacitive load. When power is off or load is disconnected, the activation of Bleeder circuit control will allow the bleeder resistor to consume filter capacitor's electricity — eliminating a potential hazard. For automatic testing equipment systems, the bleeder resistor allows PFR-100 series to rapidly discharge to prepare itself for the next operation.
Adjustable Slew Rate
The PFR-100M can adjust slew rate for current and voltage. Via setting the rise and fall time of voltage and current, you can verify DUT's characteristics during voltage and current variation. Additionally, slew rate adjustment can mitigate voltage shift to effectively prevent DUT from being damaged by inrush current. This function is ideal for tests such as capacitive load and motor.
Voltage slew rate: 0.1V – 500.0V/sec | Current slew rate: 0.01A – 4.00A/sec
The PFR-100M is well-suited for LED module test and reliability testing, charging tests for battery cell, DC/DC converter applications, DC motor test applications and solar module quality testing.
Included with PFR-100M: User and Programming manuals on CD, power cord, GTL-134 and GTL-105A test leads and PFR-002 accessory kit.
Number of Outputs: 
Single Output
Estimated Mfr lead time:
28 Days