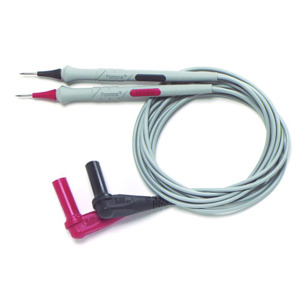 Description

Specifications

Documents
Miniature probe is the perfect size for probing tiny, high-density circuits.
Gold plated pogo pin tip keeps constant pressure on test point for consistent readings.
Replaceable probe tips.  Safety design complies with all the latest standards.
Silicone insulated wire for extreme flexibility and high temperature resistance.
Wear indication with dual extruded silicone leads shows black inner layer for increased safety.
6275 Precision Electronic Probe Set, SS Tip, CAT II 1000V
Features:
Replaceable 0.04in (1.01mm) pogo-pin tips
Small outline for tight test situations
Comfort-grip textured surface
Fits all meters including Fluke, HP (Agilent), Keithley, Meterman and others
Silicone insulated leads resist abrasion and heat
Connector Type: 
Banana to Test Probe
Includes: 
2 Leads, Gray, Black and Red Plugs
Wire Gauge Capacity: 
20 AWG