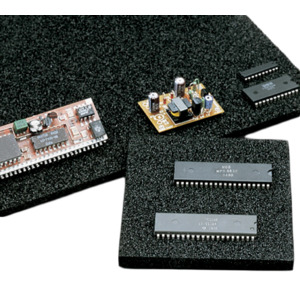 Estimated Mfr lead time:
26 Days
Description

Specifications
10E3 - 10E6 Pin Insertion Grade 
CCI offers static safe foams that have permanent ESD safe properties. Permanent CCI foams are excellent for cleanliness and repeated use. Foam can be used for inserting component leads or for cushioning in shelf liners and tote liner applications.

Specifications:

Resistance: 1 x 103to 1 x 105Ohms/sq.; Density: 2 lbs./ft3; Black.(USA)
Size: 24" X 36" X 1/4".

Brand: 
Conductive Containers
Size L x W x H: 
24" x 36" x 1/4"
Estimated Mfr lead time:
26 Days