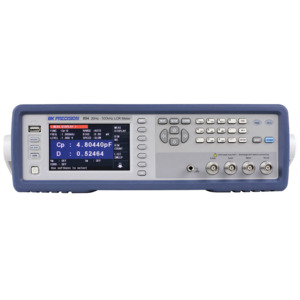 Estimated Mfr lead time:
16 Days
Description

Specifications

Documents
B&K Precision 894 Bench LCR Meter Features & Benefits
Frequency range: 20 Hz to 500 kHz
AC test signal voltage adjustable up to 2 Vrms
3 AC current ranges, selectable via 30 ohm, 50 ohm or 100 ohm internal AC impedance. The 30 ohm setting provides up to 66.7 mArms of drive current, sufficient for larger inductors and transformers.
Built-in DC bias source adjustable from -5V to +5V / -50 mA to +50 mA
Fast measurement speed up to 13 ms/reading to increase manufacturing throughput
201-point programmable list sweep function providing ability to sweep frequency, AC and DC bias voltage/current levels
Auto-level control to maintain the measurement signal applied to the DUT at a constant level
Test signal voltage and current monitoring
BIN comparative function to sort components in up to 10 bin locations
1 m and 2 m cable compensation
4-terminal fixture and Kelvin clip test leads included
Transformer test function with optional transformer test fixture TL89T1
Versatile trigger functionality (internal, external, bus and manual)
Standard RS232, USB and LAN interfaces for remote control using SCPI commands
Three-year warranty
500 kHz Precision LCR Meter
The 894 high-accuracy LCR meter is capable of measuring inductance, capacitance, and resistance of components and materials at DC or from 20 Hz to 500 kHz. The 894 provides flexible AC and DC test signal configuration. AC test signal voltage is variable from 5 mVrms to 2 Vrms, the AC current is adjustable up to 66.7 mArms, depending on the AC impedance selected, and a DC bias signal, which allows the meter to apply a DC signal to the device under test to simulate in-circuit conditions, can be added.
The vivid 4.3-inch TFT LCD offers a clear view of all measured and setting values along with BIN sorting comparator results and a handy Zoom feature that enlarges the measured values to full screen. With a basic accuracy of 0.05%, auto level control (ALC), open / short / load correction and cable length compensation, these meter are perfect tools for R&D, manufacturing and quality control applications.
Additional features:
Zoom display mode
Enlarge the displayed values for easy viewing with a touch of a button
Programmable List Sweep
Up to 201 sweep points, to conveniently display, analyze and store primary and secondary parameters of a component
Bin sorting function
Quickly sort components using the instrument's 9 primary BINs, a secondary BIN and out-of-specification BIN
Remote PC control
Integrate your LCR meter into an automated test system and control it from a PC using SCPI commands via the RS232, USB or LAN interface
B&K Precision TL89S1 SMD Test Fixture
Designed for measuring smaller surface-mount devices (SMD):
Frequency: DC to 10 MHz
DC Bias: ±40V peak max (AC+DC)
Operating Temperature: 0 to 40 degrees C
Terminal Connection: BNC, 4 Terminal-Pair
WxHxD: 5.125 x 2.37 x 3.31 inches (130 x 60.3 x 84 mm)
0.67 lbs (0.305 kg) approximately
Included with B&K 894: AC power cord, TL89K1 Kelvin clip test leads for 4-wire measurements, TL89F2 4-terminal low profile test fixture, TL8SB shorting bar, certificate of calibration, and test report.
Estimated Mfr lead time:
16 Days